Are you relocating to the UK? UK Visa and Immigration (UKVI) might require proof of your English proficiency, depending on the type of visa you are applying for and where you are applying from. UKVI accepts IELTS results with your visa application – this is good news for two reasons: 1) there are more than 1600 IELTS test centres across the world and 2) the IELTS is a standardized test taken by literal thousands of students each year – if you take classes with a trained teacher with IELTS experience, they will know exactly what to do to help you get a passing grade.
Are you an international student applying for a Tier 4 student visa to enrol in a UK-based university? All British universities and colleges accept IELTS results! Wonderful news if you are headed to university based in Britain. But, take note: 'Britain' and 'the UK' does not refer to the same thing. When immigration bodies speak about 'British universities,' they mean only those universities within the countries of England, Scotland and Wales. And 'The UK' is made up of four countries: England, Scotland, Wales and Northern Ireland. So, if you are headed to a university in Northern Ireland, check directly with the school's admissions department before you start your application. You will need to take the IELTS known as the IELTS Academic (there are other kinds of IELTS visa tests, but these might not be accepted with student-visa applications, so you should make sure you choose the IELTS Academic).
What can you expect to see on the IELTS Academic? The test will have four components: Listening, Reading Writing and Speaking. The Listening, Reading Writing sections must all be completed on the same day, with no breaks in between them. But, you can take the Speaking section up to a week before or after the other tests. The total test time is 2 hours and 45 minutes. In order to do well on the test, you need to have a good general level of fluency. You will also need to prove that you can keep up with the type of language you will be encountering once you are enrolled in an English-medium university. This means you need to be able to understand nuances within texts. You will need to be able to identify and summarize a writer's point of view. You will need to prove that your English level is high enough for you to engage in abstract- and critical thinking in English.
Are you relocating to the UK for reasons not related to studying at a university? If you are coming to the UK as a partner, dependent, athlete, businessperson, or on another general kind of visa* you might be asked to prove that you can succeed in an English-speaking environment. These types of visas are usually called tier 1 and tier 2 visas in the UK. UKVI wants to see whether visa applicants will be able to live in the UK without struggling to communicate in their daily lives. Fortunately, IELTS results can help you prove your English proficiency. *The requirements change from time to time, so you need to keep your eye on an official website, like https://takeielts.britishcouncil.org/take-ielts/which-ielts-test/ukvi/score. IELTS for UKVI can be accepted for these kinds of visas. The IELTS General Training and IELTS Life Skills might also be suitable for you, depending on your visa. *The requirements change from time to time, so you need to keep your eye on an official website: www.ielts.org/about-ielts/ielts-for-migration/united-kingdom/ielts-used-for-uk-visa-applications Have a look at these tables to see which test you will need to take: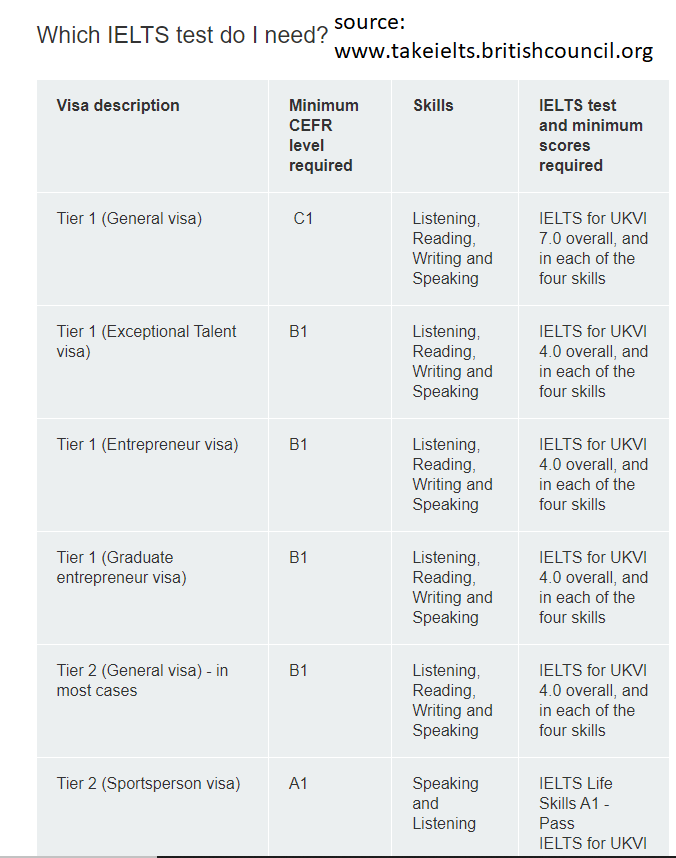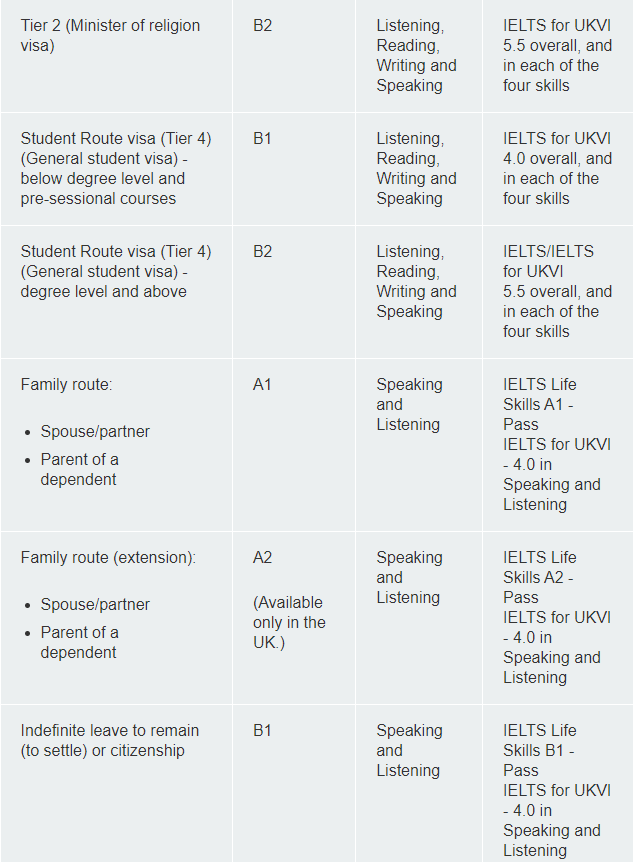 What can you expect to see on these tests? You will need to prove that you have enough English skill to live comfortably and productively in an English-speaking environment with constantly struggling to communicate. This means you will have to have a passable level of general fluency – understanding a simple, clear sentence correctly and being able to respond in an understandable way. You will need to show that you can live you daily life in the UK well – expect to be tested on your ability to understand directions, locations, shopping-, post-office-, banking-, and socially relevant vocabulary.
How should I prepare? Each type of IELTS test can be challenging if you are underprepared or ill-informed. It is best to start studying for the IELTS months in advance of your actual test date. Don't use only general kind of material to prepare yourself. You need to specifically study what you will actually see on the test. It is best to join a class (like LawTag IELTS courses) or to purchase official IELTS test-preparation materials. You should also follow a well-designed learning-pan and do several practice tests before your test date. A trained and experienced teacher can assist you in spotting your weaknesses and help you understand how you can overcome them.