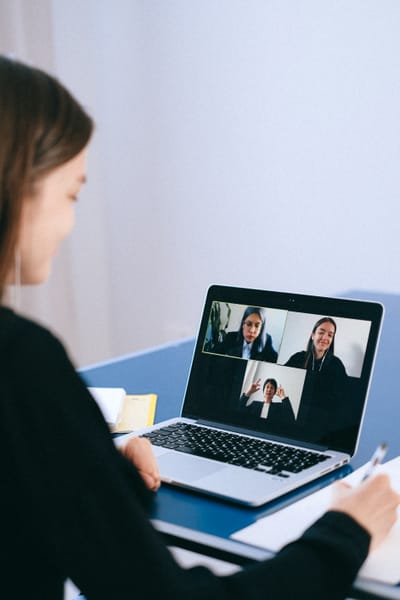 Zoom revenue surges 326% during year of global lockdowns
Tom Batchelor
02 March 2021
Source: The Independent
Level: Upper Intermediate +
Link:
https://www.independent.co.uk/news/business/news/zoom-revenue-growth-2020-covid-b1810146.html
Image: Anna Shvets
Vocabulary in context (Google)
Unprecedented /ʌnˈprɛsɪdɛntɪd/
Never done or known before.
'Unprecedented year' for video conferencing business with pandemic forcing people to stay home, says founder-CEO
Video conferencing app Zoom has seen revenues soar more than four-fold over the last year as the pandemic forced family, friends and businesses to turn their face-to-face meetups virtual, the company has announced.
Revenues at the California-based company rose 326 per cent year-on-year to $2.65bn (£1.87bn), while for the fourth quarter they were up an even more impressive 369 per cent over the previous year, at $883m.
Eric Yuan, founder and CEO, said the last 12 months had been an "unprecedented year for Zoom".
He said: "We significantly scaled our business to provide critical communications and collaboration services to our customers and the global community in response to the pandemic.
"As we enter FY2022, we believe we are well positioned for strong growth with our innovative video communications platform, on which our customers can build, run, and grow their businesses; our globally recognised brand; and a team ever focused on delivering happiness to our customers."
Despite an expected return to more normal ways of socialising and doing business in the coming months, Zoom still expects a 42 per cent growth in revenue for the next fiscal year to $3.7bn.
The company said it had 467,100 customers with more than 10 employees each at the end of January – up approximately 470 per cent on the same period last year.
Ryan Koontz, an analyst with Rosenblatt Securities, said in a note to investors: "Though we are thoroughly impressed with [Zoom] execution to date and recognise that WFH [working from home] and hybrid models are likely to remain post-pandemic, we believe it is critical to monitor company progress in building enterprise direct and channel sales while its brand and lead market position are most valuable."
Zoom shares rose 11 per cent in extended trading on Monday after the company reported its results.